Ice tea recipe: Tutti Frutti Crushed ice tea
In this hot weather, we all crave ice tea, ice creams and cold smoothies. How about a perfect combination of these 3? Yes you heard that right! We have prepared a delicious ice tea recipe with our Tutti Frutti ice tea, fresh fruit (or frozen fruit for some extra cold) and ice cubes. Add these together in the blender and then into your glass for a perfect slushy! This way you can enjoy a healthy, sweet and fresh treat in the sun!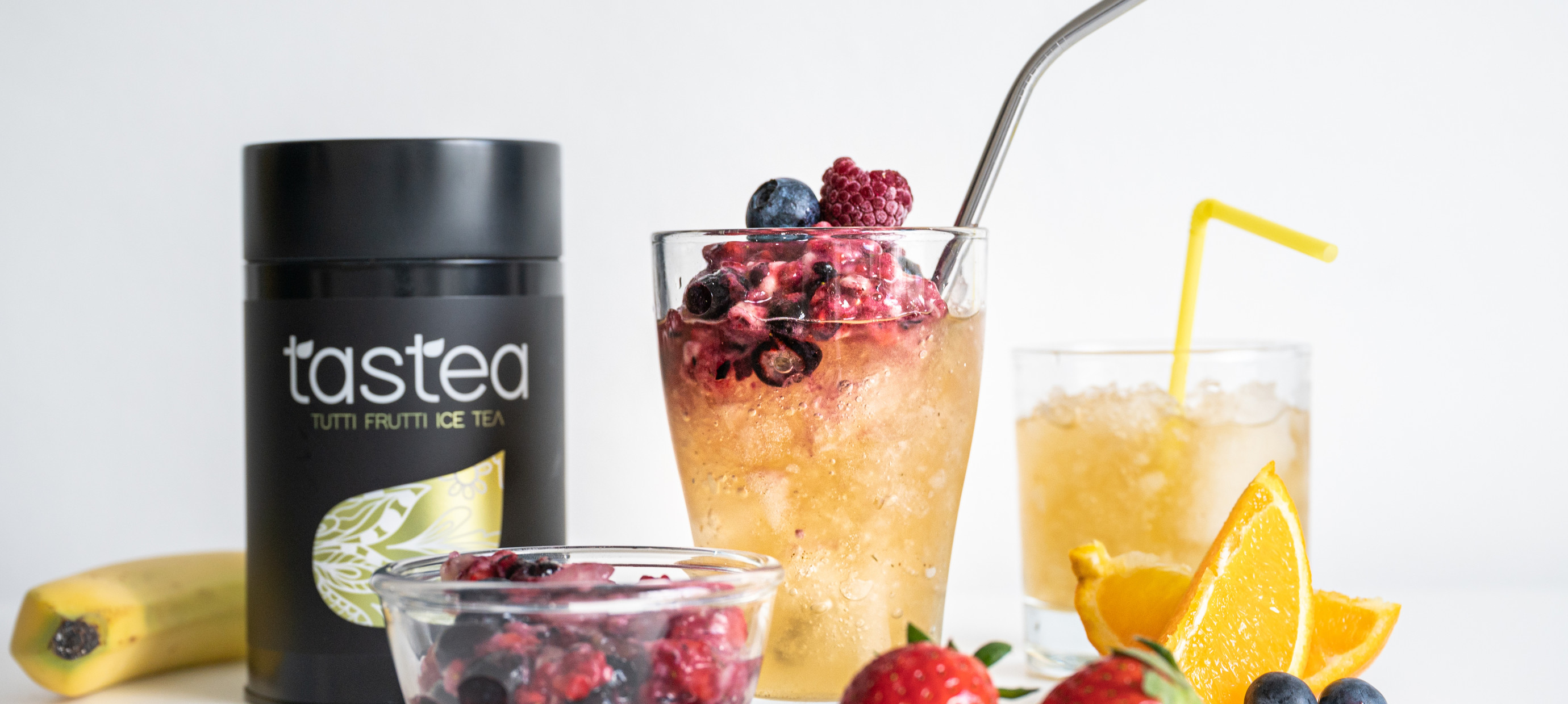 What do you need?
Teacup
Blender
Ice cubes
Fruit of choice (for example): Melon, Orange, Blueberries, Strawberry, Banana, Raspberries.
Optional topping: fresh mint
Step 1: Prepare the Tutti Frutti ice tea according to the packet, if you make 1 glass, you can make it immediately in a glass, or prepare a teapot immediately so you have more ice tea ready! Let the tea cool completely before using it for this recipe. For 1 glass you need 200 ml of water and 5 grams of Tutti Frutti ice tea blend. For a full pitcher you need 1 litre of water and 25 grams of Tutti Frutti ice tea blend.
Step 2: Cut your chosen fruit into small pieces or buy some frozen fruit. Put these in the blender together with your ice cubes and puree them into a sort of smoothie ice cream.
Step 3: Fill your glass half full with the fruit mixture and then pour the cooled ice tea over it.
Step 4: Stir briefly and top your drink with some fresh mint leaves and enjoy your homemade summer slushy!
Did you make this recipe? We are curious! Share your ice tea moment on Instagram or Facebook with us. Who knows, you might be featured on our Instagram page!