Ice tea recipe: Sunset Ice tea Cold Brew
Time to prepare a fan-tastic refreshing and healthy drink in no time. This Cold Brew recipe with our Sunset ice tea blend is delicious!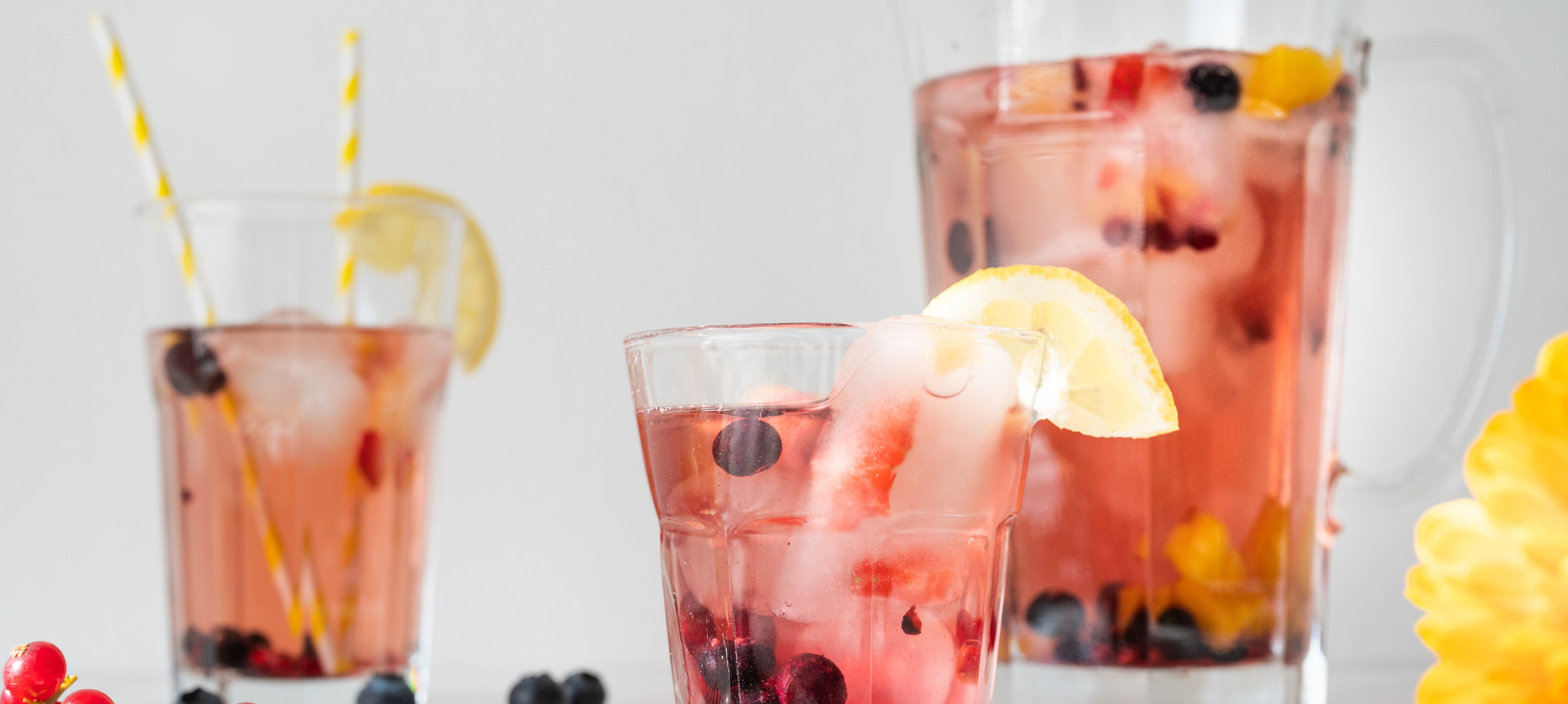 The Sunset ice tea blend is deliciously sweet and fruity, with no added sugars or sweeteners. When you open the tin, you are met by the sweet-sour fragrance of Goji Berry, peach and lemon. The hibiscus in the tea gives the ice tea its cheerful red colour.
What you need:
Teapot
Ice tea glass
Ice cube tray
Fruit of choice such as peach (fresh or canned), apple, currant, strawberry, blueberry
1 lemon
Step 1: Cut the fruit into small pieces so that they fit into the ice cube mould. With a large mould everything looks even better!
Step 2: Fill the mould with water and place it in the freezer for about 4 hours. You can also do steps 1 and 2 the night before for an even quicker result.
Step 3: Make the tea. For 1 glass, you need 200 ml of water and 5 g of Sunset ice tea blend.
Are you having visitors or do you just want to enjoy it for longer? Then make a whole pot immediately. You can always leave it in the fridge for later. For a full pitcher you need 1 litre of water and 25 grams of Sunset ice tea blend. Fill the tea filter with the tea and pour the boiling water over it.
Step 4: Leave the tea to cool until it is completely cold. This takes about an hour.
Step 5: Fill your glass with ice cubes so that it is almost completely full. The fuller your glass, the cosier it will look. Pour the cooled tea over them.
Step 6: Cut the lemon into small slices and finish your glass with one or two slices of lemon.
Tip: Feel like bubbling? Then make this ice tea with sparkling water.
Now it is time to put those feet up and dream about your summer plans.
Have you made this recipe? We are curious! Share your ice tea moment on Instagram and tag us @tastea.eu. Who knows, you might be featured on our Instagram page!