BLOG | Waarom is groene thee zo gezond?
Groene thee heeft vele gezondheidsvoordelen. Wil jij weten wat groene thee precies is? En waar het bij kan helpen? Wacht dan niet langer en lees snel verder!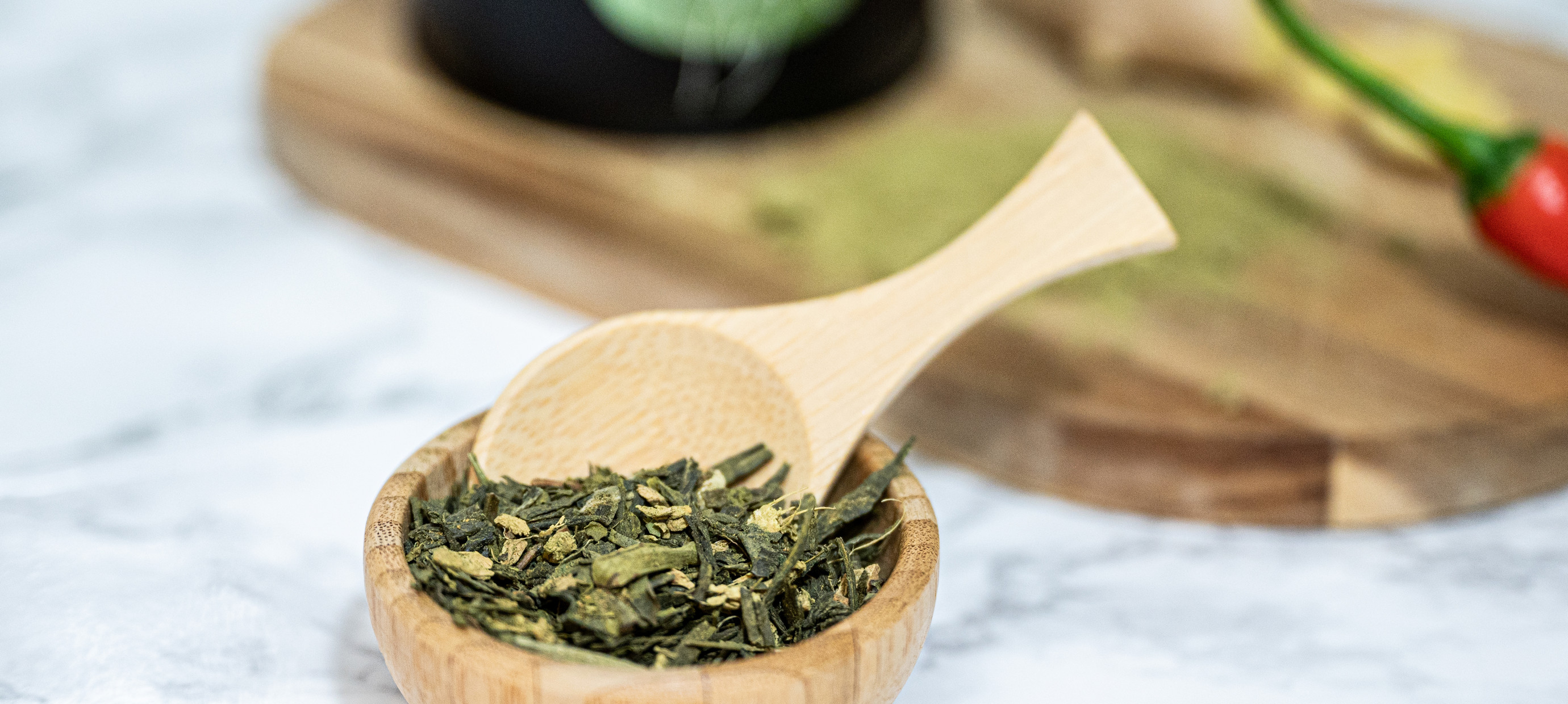 Het drinken van groene thee wordt steeds populairder. Niet gek ook, als je leest wat het allemaal voor je kan doen! In het verre Oosten drinken ze bijna standaard groene thee. Het drankje zit vol antioxidanten. Heb je dat woord al eens eerder voorbij horen komen? Nee? Dat zijn stofjes die je lichaam beschermen tegen ongewenste reacties! Good to know right?
Wat is groene thee nu eigenlijk?
Groene thee komt van de Camellia Sinensis, waar ook de meeste andere theesoorten vanaf komen. In tegenstelling tot bijvoorbeeld zwarte thee en oolong thee, wordt groene thee na het oogsten meteen geroosterd of gestoomd in plaats van in de zon gelegd. Hierdoor blijft de scherpe smaak van de thee bestaan. 
Wat is er goed aan deze thee?
Heb je even? Groene thee heeft heel veel bewezen gezondheidsvoordelen! Wij geven een korte opsomming: 
Omdat groene thee geen calorieën bevat, is het supergezond! 

 

Zoals we eerder al zeiden bevat groene thee veel antioxidanten. Een thee met stofjes die je lichaam beschermen? Awesome!

Groene thee is werkzaam tegen virussen en is antibacterieel. Het risico op infecties wordt hierdoor sterk verminderd. Ook kan dit je tanden versterken. De bacteriën die tandplak veroorzaken worden namelijk als het ware weggejaagd door de stofjes in de thee.

G

roene thee is goed voor de huid. Het heeft een anti-aging effect en het helpt bij acne. Maar… je moet hiervoor wel de groene thee op je huid aanbrengen. Alleen drinken werkt helaas niet!

Jammer…

 

Groene thee kan bijdragen aan gewichtsverlies en kan bijdragen aan vetverbranding. Nu je dat weet zou ik snel een kijkje nemen bij onze

14 Day Feel Good Bundle

. Dit zijn twee groene theeën die je weer helemaal als nieuw laten voelen.

 
Zoals je hebt gelezen is groene thee een veelzijdig drankje! Ze zeggen niet voor niets groen moet je doen ;). Maar zoals bij alles geldt: drink er niet teveel van. Het wordt aangeraden om maximaal 2 tot 3 koppen groene thee per dag te drinken. Dit komt omdat je ook teveel van de goede stoffen binnen kan krijgen! En dan werken ze weer niet zoals ze zouden moeten...