BLOG | Het kalmerende effect van kamille
Misschien drink je zelf al vaak kamillethee of ken je de heerlijke geur van kamille al. Maar wist je dat dit bijzondere plantje ook nog eens veel functies heeft? Lees er alles over in deze blog!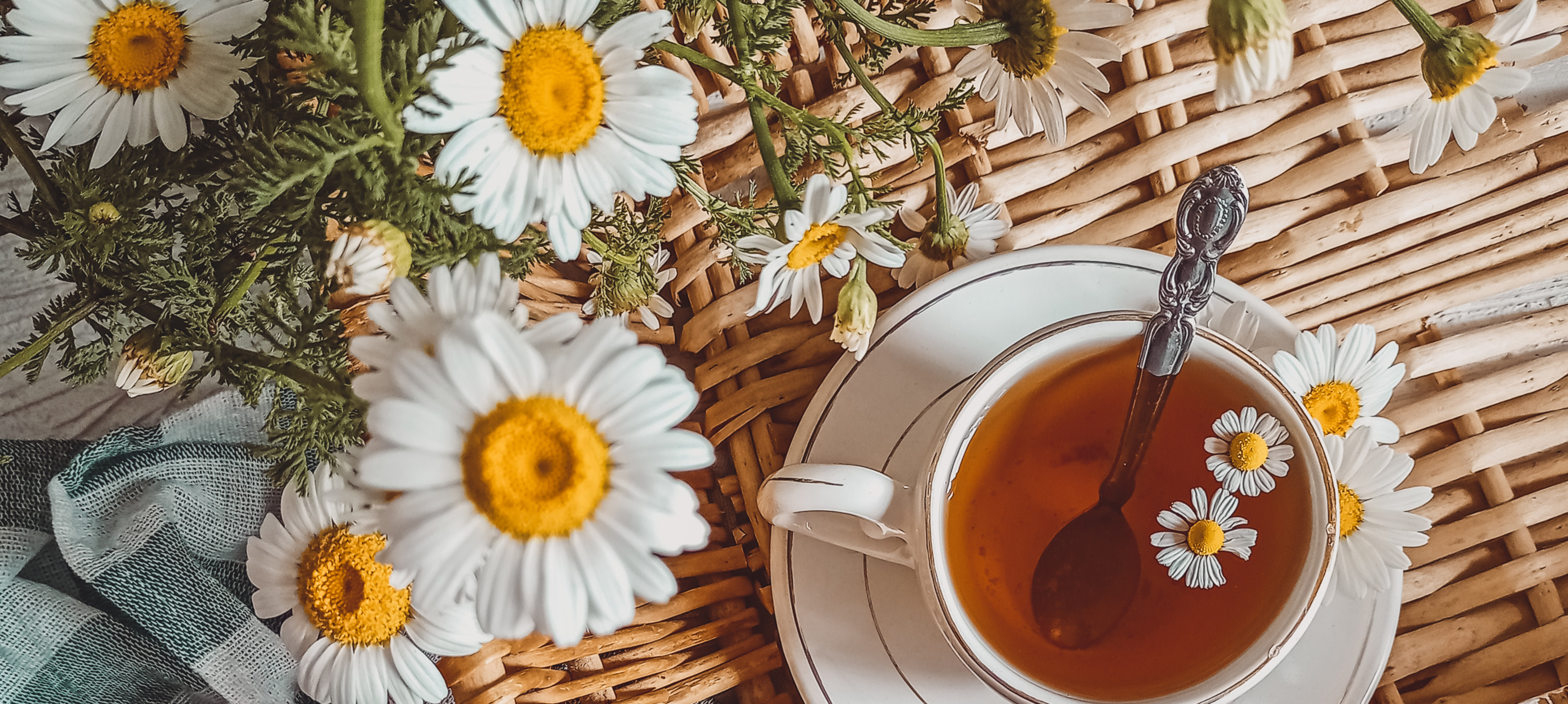 Wat is kamille?
Kamille is een plant dat in het wild voorkomt in West-Europa, maar tegenwoordig ook vaak gekweekt wordt om kamillethee van te maken. Kamille komt van een soort paardenbloemachtige plant. Het woord kamille is afgeleid uit het Grieks. In het Grieks betekend Kamille namelijk 'op de grond groeiende appel'. Verder staat kamille bekend om zijn medische werking. 
Wat is het effect van kamille?
Kamille wordt in de geneeskunde al vaak gebruikt. Dit komt omdat het plantje rijk is aan antioxidanten die onder andere een positief effect hebben op ons zenuwstelsel. Het is niet voor niks dat kamille bekend staat om zijn kalmerende werking.  
Kamille helpt dan ook bij het verbeteren van je nachtrust. Dit komt door het antioxidant Apigenine. Dit stofje zorgt dat je hersenen slaperigheid bevorderen en je dus eerder in slaap komt. Verder helpt kamille slijmvorming te verminderen. Dit is erg handig als je verkouden bent of last hebt van hooikoorts! 
Er zijn nog meer voordelen aan kamille! Verschillende studies suggereren dat kamille helpt bij het verminderen van ontstekingen en van de bloeddruk. Ook zou het helpen bij menstruatiepijn. Dit komt door de stofjes flavonoïden en coumarines. Deze stofjes kunnen werken als spierverslappers. Wanneer je dus erge menstruatieklachten hebt, zou je eens kunnen proberen of een kopje kamillethee voor jou helpt. En laat tastea daar nou net de perfecte thee voor hebben! De Bloody Hell is namelijk een thee die speciaal is ontwikkeld om menstruatieklachten te verlichten. Onder andere de kamille, gember en frambozenblaadjes helpen jou door je menstruatie heen. 
Daarnaast hebben we de Happy Hangover. Deze thee heeft een ondersteunende werking voor (sommige) iets veel voorkomends... Een kater! In deze thee zit natuurlijk weer kamille, maar er zitten ook ingrediënten in als bramenblad, Verveine en Siberische Ginseng. 
Voor ondersteuning tijdens de overgang hebben we de Women's Pause thee ontwikkeld. Deze thee bevat ingrediënten als valeriaanwortel, kamille en ginseng. Samen met de andere ingrediënten zorgt deze thee voor wat rust terwijl je lichaam door een zware periode gaat. 
Als laatste hebben we een kamillethee die je de echte Ibiza Feeling geeft