BLOG | Crazy About You thee zegt meer dan duizend woorden
Cadeautjes krijgen is leuk, maar hoe geweldig is het om iemand waarvan je houdt even goed te verwennen? Onze Crazy About You thee is met liefde samengesteld en dat merk je meteen als je het blik opent. De liefde vliegt je om je oren. Wil je weten hoe dat komt? Lees dan snel verder.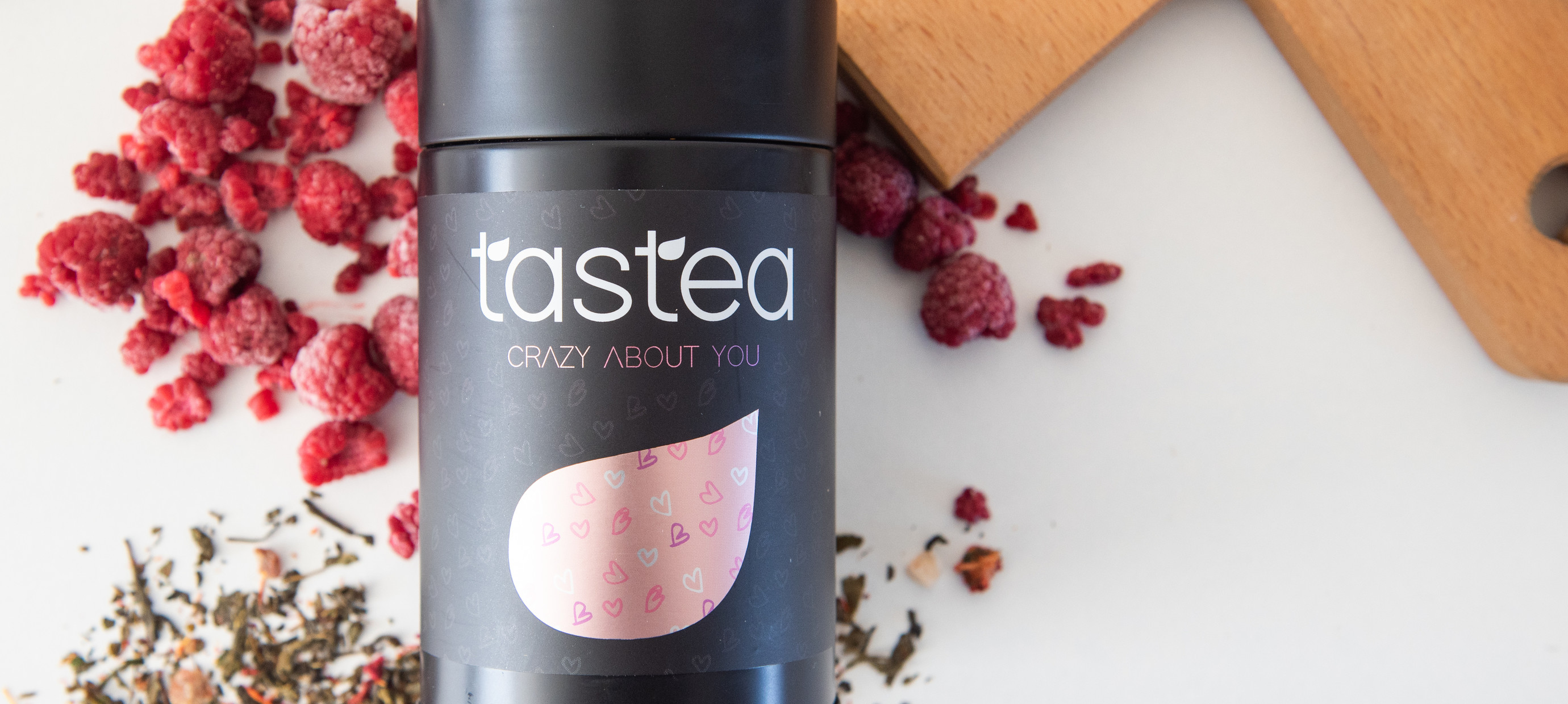 Kennen we het niet allemaal? De hele dag je telefoon in de gaten houden voor een berichtje van someone special, knikkende knieën, geen hap door je keel krijgen en slapeloze nachten. Babe, you're in love! En geloof ons, deze thee beschrijft precies jouw gevoel.
The perfect gift
De Crazy About You is speciaal gemaakt om je lover mee te verwennen. Tastea heeft de liefde die jij voelt vertaald naar al jouw zintuigen. Wij leggen je nu met liefde uit welke ingrediënten voor dit gevoel zorgen.
Romantische look
Alleen de thee zelf straalt al pure romantiek uit! Want die rozenblaadjes zitten er niet voor niks in! De rode saffloerbloesem geeft deze theeblend een frisse look met haar prachtige vel rode kleur.
Groene en witte thee
In dit blik zit een blend van groene en witte thee. De groene thee zorg voor een mooie smaak met een beetje pit. Want we houden stiekem ook wel van een beetje peper in ons liefdesleven. De witte thee laat juist de zachte tonen terugkomen. Wij zeggen de perfecte balans!
Dadels
Isn't it sweet? Dit is de vrucht om alle hartjes mee te veroveren. Dadels geven namelijk niet alleen een heerlijk zoete smaak aan de thee, maar ze hebben ook nog invloed op je hersenen. Er zit namelijk een grote hoeveelheid antioxidanten in dadels en deze kunnen ervoor zorgen dat je minder snel angstig wordt. Don't worry sweetheart, I'll protect you!
Ananas, framboos en aardbei
Sweet, sweeter, sweetst! Als het aan ons ligt kan er niet genoeg fruit inzitten. We love it! De stukjes framboos en aardbei zien er natuurlijk geweldig uit in deze blend en ze geven dat zoete vleugje aan de smaak van de thee. En je weet wat ze over ananas zeggen… 
And we're sure, het enige antwoord wat jij terug zal krijgen zal zijn: "Oh honey, I'm crazy about you too!
Kaat Bollen over Crazy About You
Wil jij weten wat de Belgische seksuoloog en relatietherapeut Kaat Bollen over onze Crazy About You zegt? Kijk dan vooral onderstaande korte video.
Helemaal crazy geworden van de Crazy About You? Je haalt 'm gemakkelijk hier. Geniet er rustig van en laat ons vooral weten hoe het daar is op je roze wolkje!