Recipe: Golden Chai Latte
It's time for a Golden Chai Latte. And when we say golden, we mean golden, 23-carat to be precise! With this recipe, you can create the perfect Chai Latte that is a feast for the eyes!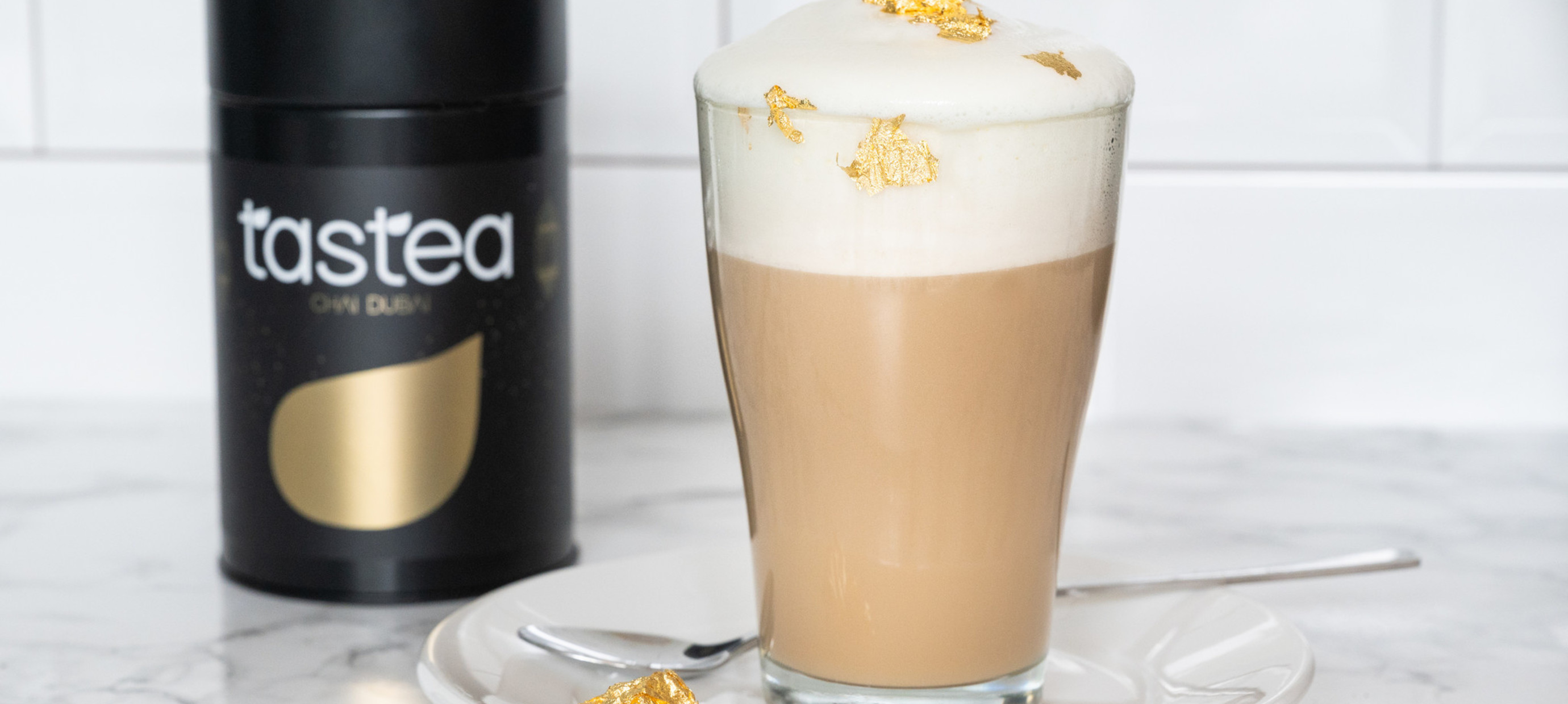 As soon as you open the can of Chai Dubai, you are immediately hooked! Not only does it have a deliciously fresh, slightly spicy fragrance, but the gold also shines out at you. The edible gold in this tea makes the Chai Dubai one of our most special and luxurious tea blends.
As soon as you take the first sip, you enter the royal sphere of Dubai. The soft minty taste combined with black tea Ceylon, cardamom, safflower leaves and date will warm you up from the inside. The subtle spicy touch this blend gives you makes it a perfect substitute for your daily cup of coffee.
What do you need:
250 ml oat milk
100 ml water
Glass cup
Milk frother
Step 1: Remove a few flakes of the gold from the blend and set aside.
Step 2: Make the tea. For 1 cup, put 4 grams (1 teaspoon) of Chai Dubai tea on 100 ml of boiling water.
Step 3: Allow the tea to infuse for a while so that it becomes nice and strong.
Step 4: Froth up the oat milk.
Step 5: Pour the infused tea into a nice glass cup.
Tip: For an optimal golden look, add a few golden flakes to the tea.
Step 6: Pour the foamed oat milk into the tea. Add an extra generous dollop of frothed milk if you have any left over. 
Did you make this recipe? We are curious! Share your Golden Chai Latte moment on Instagram and tag us @tastea.eu. Who knows, you might be featured on our Instagram page!