Hoe vier je pasen met je kids?
Het is april, en dat betekent dat Pasen er weer aankomt. Je kids roepen al weken wanneer de paashaas eindelijk langskomt en de chocolade eitjes hebben al een entree gemaakt. Het is de favoriete feestdag van een heleboel kinderen en daar kan je als ouder alleen maar van genieten, toch? In deze blog geven we je leuke en lekkere recepten, activiteiten en knutselideetjes om jouw Pasen met kids perfect te vieren!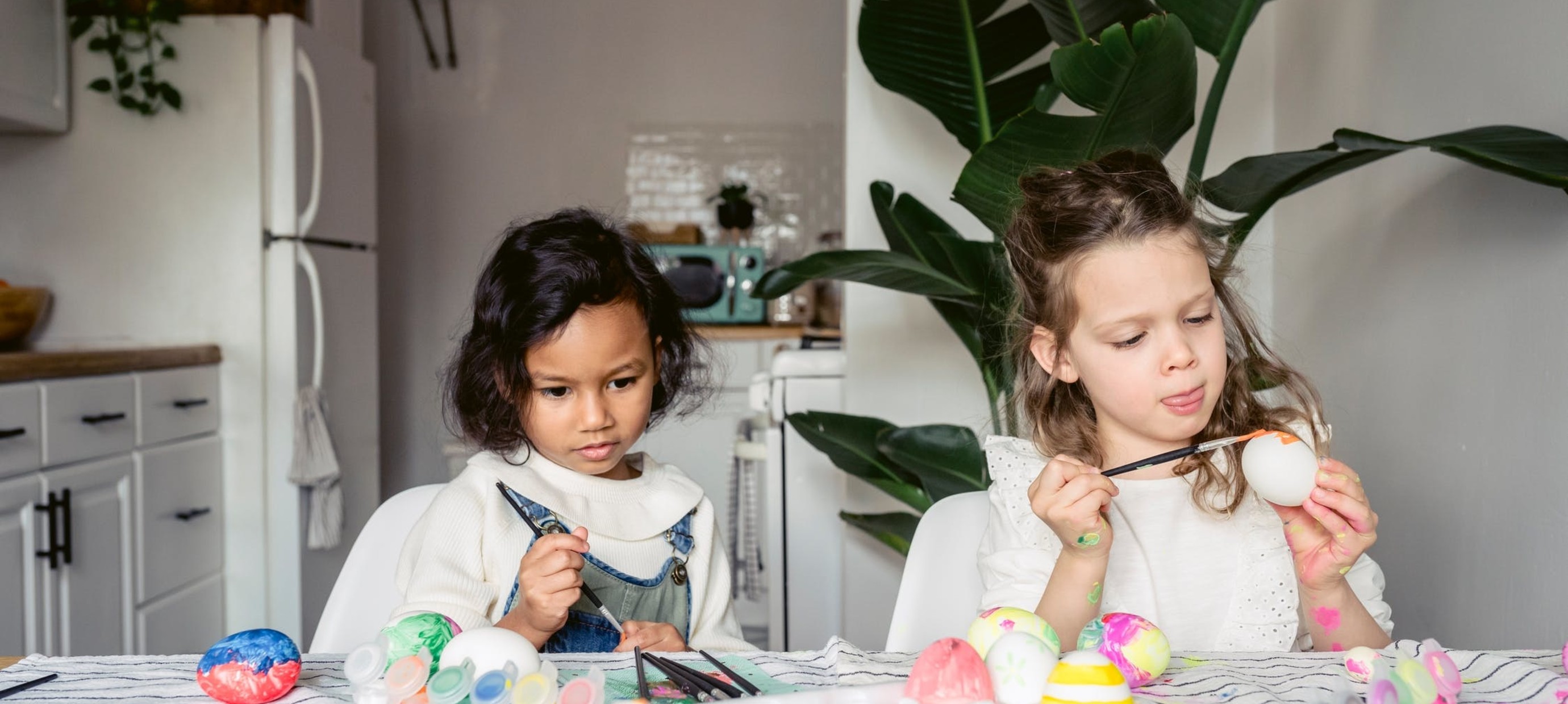 De mogelijkheden zijn eindeloos en daardoor kan er keuzestress ontstaan. Een van de dingen die we er niet bij willen hebben! Daarom hebben we een mooie selectie gemaakt, zodat je zelf niet hoeft te kiezen.
Paaseieren zoeken
Laten we beginnen met de klassieker: de verstopte eitjes zoeken. Zó simpel, maar toch zó leuk. De kinderen vinden het geweldig en het is relatief simpel om te regelen. Koop een zak paaseitjes en verstop die door de tuin, geef je kinderen een mandje mee en voila! Je bent even een uurtje van ze af... ze zijn wel lief hoor!
Paashaas pannenkoeken
Leuk al die culinaire gevulde eitjes, maar we weten allemaal dat de meeste kids daar totaal geen behoefte aan hebben. Geef ze een pannenkoek en ze zijn vaak wel happy! Wil je ze nog blijer hebben én in het thema Pasen blijven? Maak paashaaspannenkoeken! Door grotere en kleinere pannenkoekjes te bakken kan je ze zo neerleggen, dat de vorm van een paashaas naar voren komt. Top het af met een lekker aardbeitje (krijgen ze die vitamines ook weer binnen) als neus. Klaar om te smullen!
Paaseieren schilderen
Dit is ook weer een klassieker. Koop een paar eieren en geef ze wat verf en kwasten. In no time zul je zien hoe creatief je kinderen eigenlijk zijn! Wie weet is jouw ukkie wel een echte Picasso... Een leuke twist: hebben je kids soms moeite om te delen? Laat ze halverwege wisselen van ei, zo leer je ze om elkaar wat te geven en van elkaar wat te krijgen.
Papa of mama de paashaas
Wil je echt helemaal full out gaan? Dan moét je dit proberen! Het zal misschien lastig zijn om hem/haar over te halen, maar het is het dubbel en dwars waard. Laat papa of mama zich verkleden als de paashaas. Je kinderen zullen het fantastisch vinden! Of je nou een rondje met ze gaat rennen, of samen een spelletje gaat spelen, ze zijn tevreden! Het paashaaspak kan je gemakkelijk online vinden, het aanbod is groot en varieert in prijsklasse.
Op deze manier zullen jouw kids de tijd van hun leven hebben tijdens Pasen. Heb je een van deze ideeën uitgeprobeerd? Laat het ons weten en vertel hoe het is uitgepakt!